Castine Classic Highlights
For eighteen years the Castine Yacht Club has sponsored the Castine Classic Yacht Race to Camden, which has attracted a magnificent fleet of classic yachts from far and wide. This race has provided the backdrop for CYC to stage significant celebrations, such as those honoring Maine boat builders (2009); lobster boats (2014); schooners (2015); and the designs of Herreshoff (2011), Fife (2012) and Concordia (2013).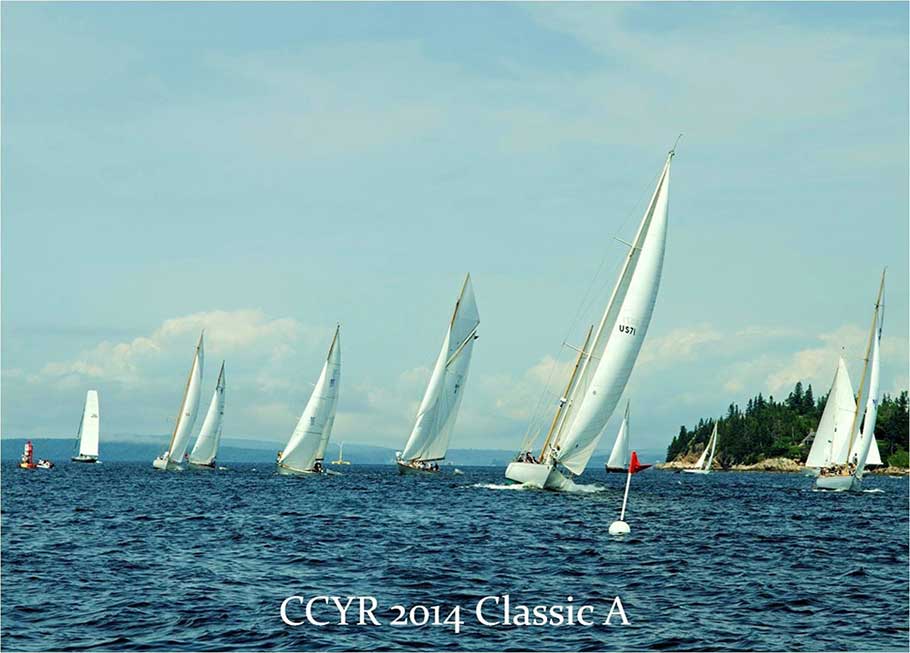 Photo by Kathy Mansfield

This summer we will celebrate Aage Nielson, a genius or Twentieth century yacht design. Notable Nielson yachts will be on exhibition at the Town Dock, and the Nielsen fleet will be honored at a symposium at the Maine Maritime Academy. Maynard Bray and Tom Jackson, authors of Worthy of the Sea, the definitive Nielsen treatise, will orchestrate the discussion among a distinguished panel of skippers, builders and historians.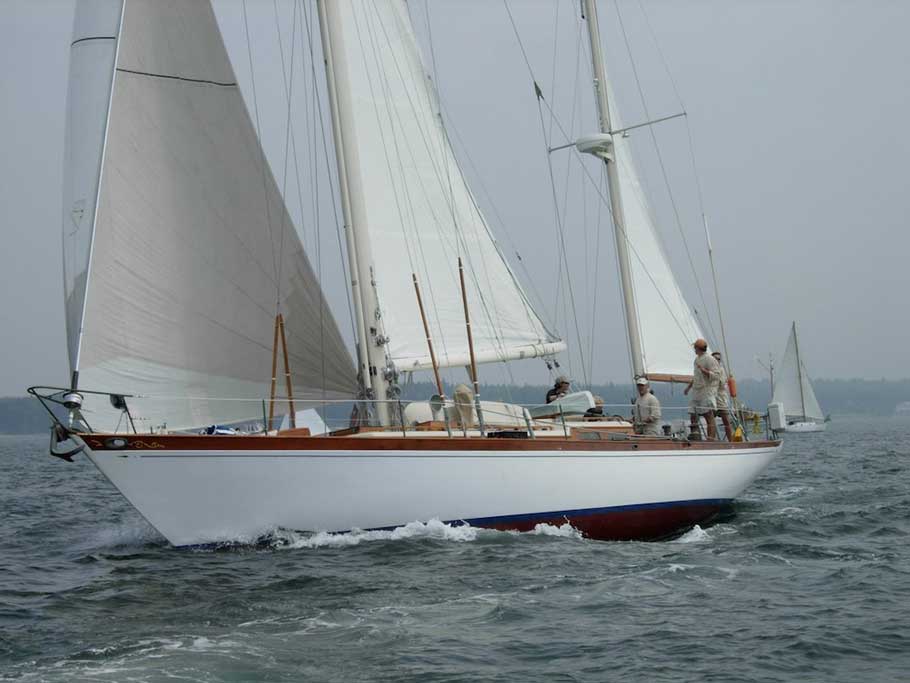 51' ketch Saphedra, designed by Nielsen and built by Paul Luke in 1965 Courtesy of Maynard Bray

Last summer we celebrated the extraordinary achievements spanning over eighty years of the 52' yawl Dorade. Designed by Olin Stephens in 1929 at age 21, Dorade took the sailing world by storm, scoring decisive wins in the Transatlantic and Fastnet races -- to be greeted upon its return to New York with a ticker tape parade up Broadway. Dorade has recently achieved amazing success in the same premier races in both the Pacific and Atlantic, which launched its career.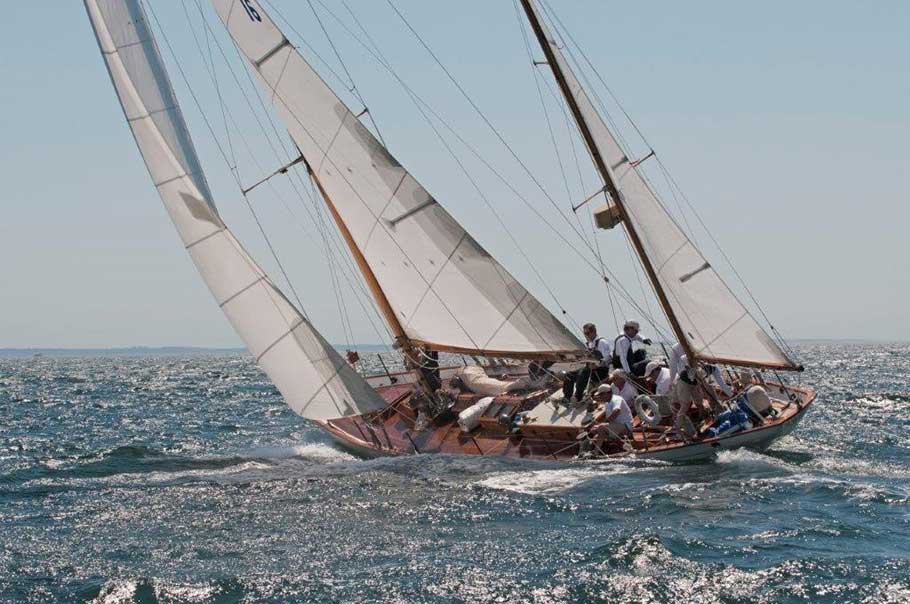 2016 - Dorade driving to windward Photo by Kathy Mansfield

We also honored, last summer, the schooner America, a 139' replica of the yacht which started the America's Cup tradition in 1851 by defeating the British to win the Royal Yacht Squadron's "100 Guinea Cup."
Schooner America with America's Cup

Two of our most memorable celebrations focused on Olin Stephens, the preeminent designer of the 20th century and the most revered figure in the yachting world. Bob Scott introduced Olin to Castine. In 2004 we celebrated the 75th anniversary of Sparkman & Stephens with an historic symposium, chaired by Knight Coolidge and Rusty Bourne, bringing together the world's leading designers who trained with Olin at S&S. German Frers from Argentina and Doug Peterson from Italy made their way to Castine to participate.
2004 – Olin and Knight Coolidge at S&S 75th Anniversary Symposium

The S&S celebration was preceded by a race from Cape Cod to Castine sponsored by CYC and the Beverly Yacht Club. The 12-meter Valiant took line honors in this 187 nm downwind sprint, clocking over 13kts for many hours of the race.
Olin watching Dorade win CCYR 2008 as finishing cannon fires

In 2008 we feted Olin Stephens on his 100th birthday. Despite a "broken" back, Olin joined us on the race committee boat and witnessed Dorade winning the race to Camden. "The greatest birthday present ever," Olin proclaimed. This was Olin's last day on the water. He sailed over the bar a month later.
Olin's birthday celebration was kicked off with a 143 nm race from Marblehead to Castine, sponsored by CYC and the Eastern Yacht Club. The fifteen boat fleet encountered gusts up to 38kts, with the W-76 Wild Horses taking Class A honors.
2008 - Olin's 100th birthday celebration on the CYC deck

These events have helped burnish the reputation of Castine and our beloved yacht club throughout the sailing world. Cheers!
—David Bicks, February 2017
Photo Album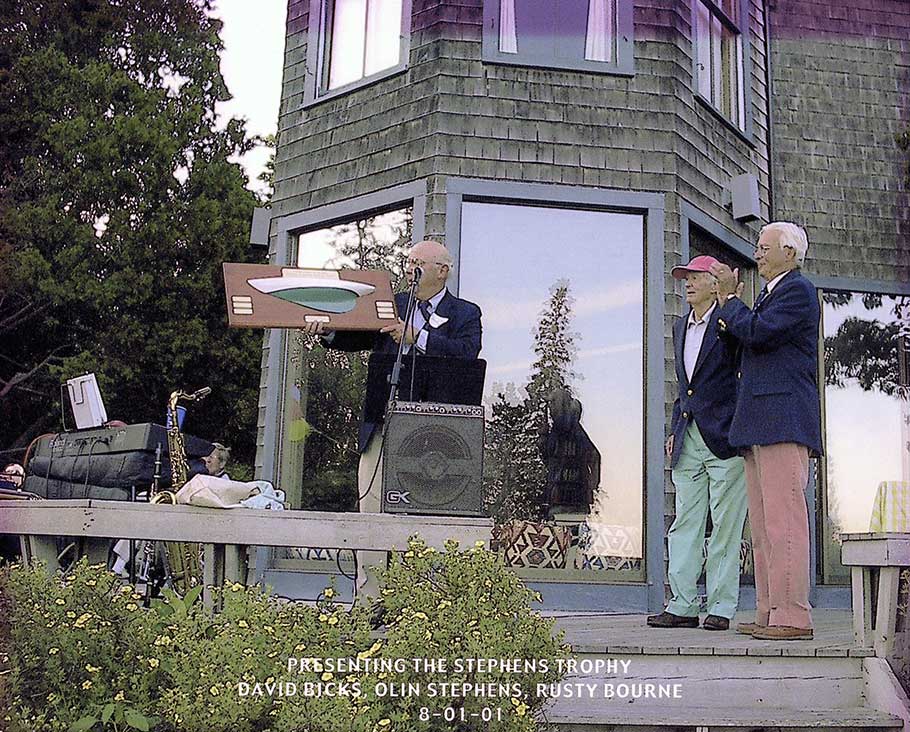 2001 - First presentation of Sparkman & Stephens Trophy

2008 - Herreshoff Buzzard's Bay 30s built in 1902 and newly restored by French and WebbPhoto by Cynthia Boyer

2011 - Spartan, winner of Herreshoff class, in chase of Neith and P Class Joyant Photo by Kathy Mansfield

2016 – The Blue Peter leading Marilee Photo by Kathy Mansfield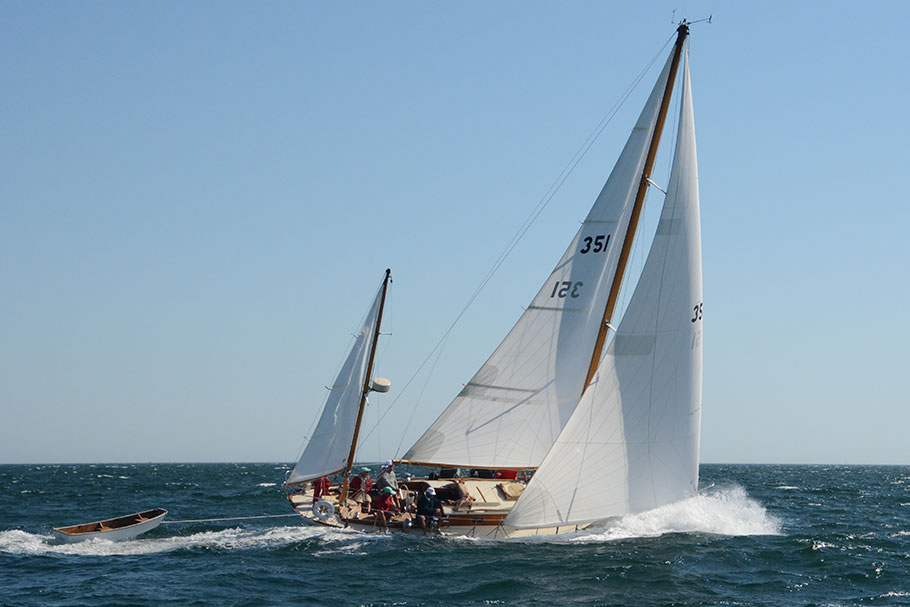 2016 - Fidelio Photo by WC Hauser