About the Race
Please join us for the 21st annual Castine Classic Yacht Race, sponsored by the Castine Yacht Club.
2016 – The Blue Peter leading Marilee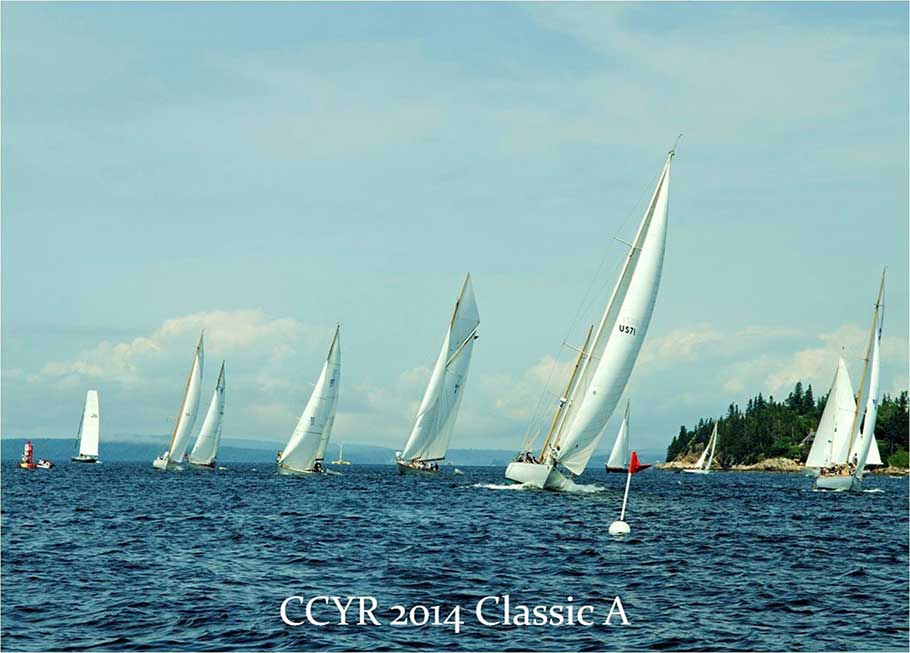 Start of Classic A class
(Photos credit Kathy Mansfield)
On July 30th, an impressive fleet of classic yachts will race a 19.6nm course from Castine to Camden, followed by the Camden to Brooklin race on Friday, July 31, and the Eggemoggin Reach Regatta on Saturday, August 1.
For Race Notice, Registration and other information, please refer to other website pages.
Your registration for this race may now be completed on this website. If you prefer to register by mail, download a registration form. Please return your entry as soon as possible. Please note that all yachts need a current CRF rating, which may be obtained online at http://classicyachts.org/ratings.
Please contact us if you have any questions. We look forward to seeing you in Castine this summer.
Castine Classic Committee

David Bicks
917-331-5482
Tom Ashton
859-816-8015
COVID 19 COMPLIANCE
ALL PARTICIPANTS ARE REQUIRED TO HAVE COMPLIED WITH ANY MAINE QUARANTINE REQUIREMENTS IN EFFECT.
SOCIAL DISTANCING AND MASKS ARE REQUIRED AT
THE CYC CLUBHOUSE, PIER AND DOCKS AND AT THE TOWN DOCK.
NO RAFTING OF YACHTS PERMITTED