2023 Results
Black Watch Leads Castine Classic Fleet
The 24th annual Castine Classic 19.6nm race to Camden, sponsored by the Castine Yacht Club, was sailed on August 3 on Penobscot Bay.
The race was the first of a three race series, followed by the Camden to Brooklin feeder race and the Eggemoggin Reach Regatta. The twenty-eight yacht fleet beat down the sparkling waters of Penobscot Bay in a brisk and steady southwest breeze, rounded Robinson Rock south of Islesboro and had a spinnaker run to the finish off Curtis Island in Camden.
Black Watch, a 68' Sparkman & Stephens designed yawl built in 1938 and skippered by Kyle Dufur, took Classic A honors. Black Watch was awarded the Ames Cup as overall winner of the Classic A, B and C fleets.
The Ames Cup is given in memory of the Ames family which hailed from Castine. Their two sons were lost off the Grand Banks in an unsuccessful effort to save their father who was washed overboard in the 1935 Newport to Bergen, Norway race. Black Watch also won the Sparkman & Stephens trophy as the top S&S yacht in the fleet.
Classic B honors went to Bijou II, a 40' Reimers designed sloop built in 1972, skippered by Chris Bouzaid.
Spirit, a 47' yawl designed by John Alden and built in 1934, sailed by Lars and Peter Forsberg, took top spot in Classic C. Classic C included four Concordia yawls. Otter won the Phalarope trophy awarded to the top Concordia yacht. This year's race celebrated Concordia yachts with a special exhibition at the Castine Town Dock.
The Spirit of Tradition fleet was led by Outlier, skippered by Harvey Jones. Outlier is 55' Botin design built in 2019.
The pictures below are by Kathy Mansfield, noted British yachting photojournalist.
Castine Classic Yacht Race 2023 results
Castine Classic 2023 Photos
(Photos credit Kathy Mansfield.)
Concordias at the Castine Town Dock — celebrated at the Castine Classic Yacht Race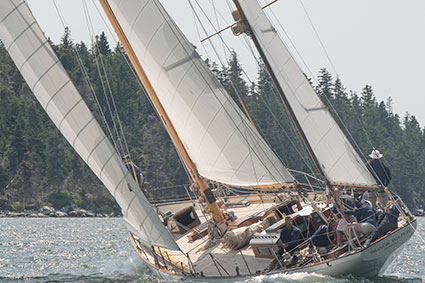 Black Watch, a 1938 Sparkman & Stephens design, awarded Ames Cup as overall winner of the regatta
The Castine Classic race start for Classic B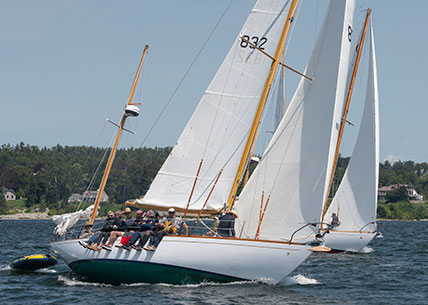 Otter, a Concordia 41 — winner of the Concordia fleet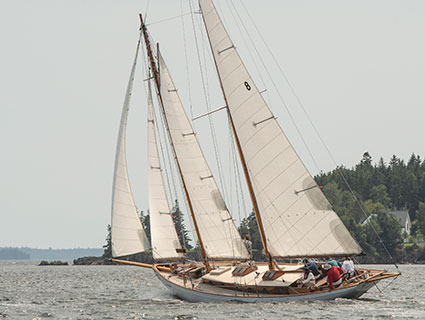 Spirit, a 1934 John Alden schooner — winner of Classic C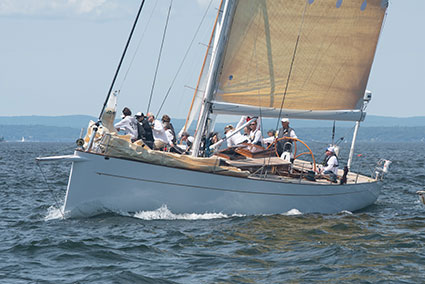 Outlier, a 2019 Botin 55 — winner of the Spirit of Tradition
Bijou II, a 1972 30 square meter — winner of Classic B